Could September be a stock blockbuster?
Why September Could Be Huge for Markets All Around the World
Sid Verma  @_sidverma  Luke Kawa  LJKawa  August 31, 2016 — 6:58 AM EDT
The first debate of the U.S. presidential campaign. A Group of 20 (G20) central bank interest rate announcement nearly every other trading day. And a key meeting among commodity nations around the world.
With a jam-packed calendar in September, no asset class is immune from potential event risk.
That's not to mention that the month has typically been the worst one for stocks — the only one in which the median return for the S&P 500 has been negative going back to 1928, according to Bank of America Merrill Lynch Head of U.S. Equity and Quantitative Strategy, Savita Subramanian.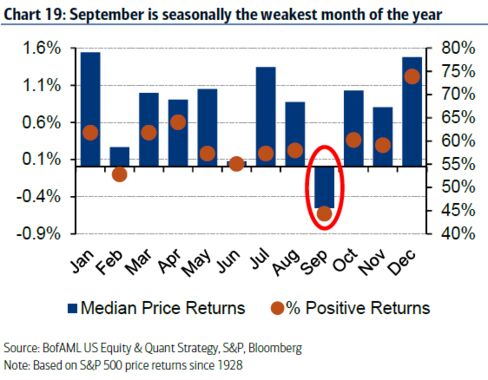 Now, Wall Street strategists are warning of an end to the unusual calm that's characterized markets in August, advising clients to go long volatility, citing, in part, the prospect of rising cross-asset correlations.